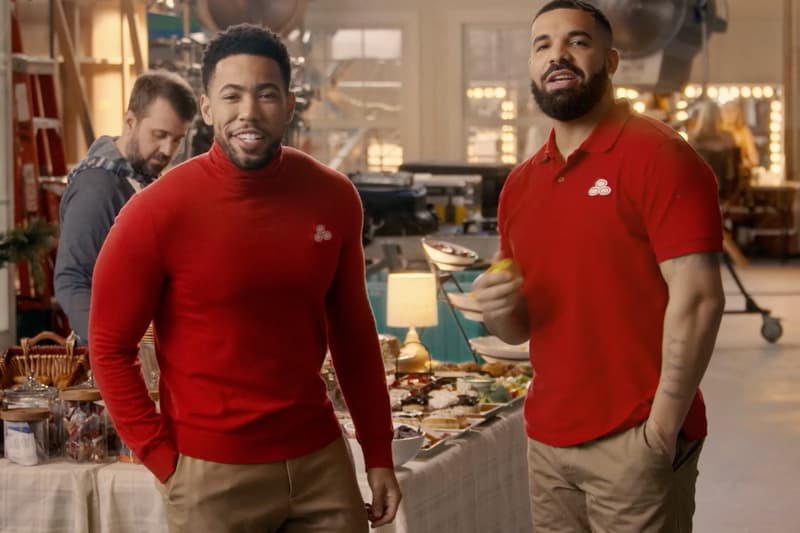 Film & TV
Watch the Best Super Bowl 2021 Commercials Starring Drake, Timothée Chalamet and More
Companies including State Farm, Cadillac and Uber Eats made headlines with noteworthy new ads.
Watch the Best Super Bowl 2021 Commercials Starring Drake, Timothée Chalamet and More
Companies including State Farm, Cadillac and Uber Eats made headlines with noteworthy new ads.
If you missed the Super Bowl yesterday, here's a brief recap: The Weeknd put on a halftime show that sparked Twitter's meme of the moment, and the Buccaneers won. Yesterday's event wasn't just a history-making moment for sports and music fans — it also saw the debut of several noteworthy new commercials featuring celebrities-of-the-moment Michael B. Jordan, Timothée Chalamet, Drake and Cardi B.
A cultural phenomenon in-and-of-itself, Super Bowl ads are viewed by tens of millions of viewers, giving brands a prime opportunity to sell themselves to a wide-reaching audience. This year, companies got especially creative, perhaps under pressure to wow content-fatigued, pandemic-tired viewers. Amazon proved that sex continues to sell with a suggestive new spot for the Alexa device starring heartthrob Michael B. Jordan, and State Farm hilariously riffed on "Jake From State Farm," replacing the friendly insurance rep with rapper Drake.
Keep scrolling to watch the best Super Bowl 2021 commercials.
Alexa's Body, Amazon
"I literally couldn't imagine a more beautiful vessel for Alexa to be inside," an Amazon employee remarks, admiring the device's new design. However, she quickly proves herself wrong as she looks out the window and sees a bus plastered with Michael B. Jordan's face. The employee falls into a steamy daydream imagining Alexa as the hunky actor — "Alexa, dim the lights," she says, and Jordan takes off his shirt, impressing a group of party-goers interested in purchasing a device of their own. Already, the ad boasts over 77 million views on YouTube, proving it a smash hit.
Defy Logic, Logitech
2020 saw Lil Nas X sell Doritos with his hit "Old Town Road." This year, the rapper took a more serious approach with his spot for Logitech, a 30-second commercial set to a snippet of his upcoming single "Call Me By Your Name." The ad's narration exalts the next generation of boundary-breaking creatives who "defy what logic says we should look like, sound like, be like," subtly spotlighting Logitech's webcams and microphones, favorites among streamers and other internet content creators.
Drake From State Farm, State Farm
"I don't even have a stand-in," Jake, State Farm's friendly customer service mascot, laments during a commercial shoot. "Of course you do," the director says, looking over at none other than Drake. The rapper, dressed in State Farm's signature red polo, saunters over: "That's right, I'm Drake from State Farm," he declares, riffing on the insurance provider's "Jake From State Farm" catchphrase.
Flat Matthew, Doritos
Actor Matthew McConaughey becomes a 2D cut-out in Doritos' latest ad, a spot for the brand's puffy, 3D chips. "Flat Matthew" endures the difficulties of 2D life as he gets his morning coffee, walks his dog and stars on a late night talk show. However, he soon finds a solution for his predicament — he simply eats a Doritos 3D chip and transforms back into a full-fleshed person.
Get Ready, Pepsi
Building anticipation for The Weeknd's halftime show, Pepsi's commercial payed homage to the ubiquity of R&B singer's track "Blinding Lights," depicting transit workers, stay-at-home-dads and grocery store stockers singing along to the hit song. Concluding the brief ad, The Weeknd himself pulls up to a garage security booth, interrupting a star-struck employee grooving along to the song.
Opportunity Knocks, Fiverr
Freelance marketplace Fiverr capitalized on Donald Trump's Four Seasons Total Landscaping gaffe with a new ad set at the now-famous warehouse. "From graphic design to web development, or even a PR expert for things like, I dunno, booking a press conference, Fiverr has the freelancers to get you where you want to be," a spokesperson reports, referencing Trump's mix-up. "This is not a hotel," she clarifies, concluding the tongue-in-cheek commercial.
ScissorsHandsFree, Cadillac
Winona Ryder reprises her role as Kim Boggs, Edward Scissorhands' love interest, in Cadillac's commercial for the all-electric LYRIQ. Timothée Chalamet plays Edgar, her and Edward's son, who is navigating the difficulties of living with sharpened fingers. Hoping to cheer Edgar up, Kim gifts him the new car. Featuring a hands-free driving mode, the LYRIQ allows Edgar to steer without using his problematic hands, a happy ending for the fictional family.
Wayne's World, Uber Eats
Wayne and Garth of Wayne's World poke fun at celebrity endorsements in Uber Eats' commercial encouraging people to support their local restaurants. "We'd never manipulate you the way all these other commercials do," they say, doing just the same. "We'd never shamelessly rely on a celebrity cameo," they add, as Cardi B appears on the couch next to them.
Share this article